The Texas Hill Country
---
Bluffton
A Town Destroyed by Fire and Water
A convenience store and an the old school are all that exists of a community called Bluffton today. Located about five miles west of the original townsite, it is still referred to as "new" Bluffton by those who remember the old.
They are the descendants of the pioneers who built up the first Bluffton and then rebuilt it after it's almost complete destruction by fire in 1883, only to lose it forever with the damming of the Colorado in 1936. They are unique because they no longer have what most people take for granted, "a hometown".
Bluffton was first built on the West bank of the Colorado River near the area first settled by the Billy Davis family, but most people credit I.B. "Uncle Ike" Maxwell as the true founder of the town he named Bluffton after his home in the Quachita Mountains of Arkansas.
Ike was related to the Davises who wrote to him glowingly about the new country they had settled in, and at the age of seventeen, with an old mule, a saddle, and a muzzle loading rifle, he and a Davis boy also from Bluffton, Arkansas rode out for Texas. The year was 1854.
It is told that when Isaac Byler Maxwell stopped at the Colorado River, sitting astride that old Arkansas mule, he thought he had reached Heaven. He said, "this is the place I've dreamed of all my life."
His Davis kinsman gave him a hundred acres of land for a start, and start he did, building a town and raising a large family.
He had fifteen boys, four girls, and outlived three wives.
He built the first church in Bluffton, and was the first Church of Christ preacher in the Llano and Burnet County area.
He helped to organize Llano County, and brought the first marriage license issured there in1858.
He headed the petition for the Bluffton Postoffice, established in January 1873.
He was elected to the State Legislature in 1884, and convinced his colleagues that Burnet and Llano Counties could supply ample granite to build the State Capitol in Austin. Being present when the building began, he placed a silver dollar with his name on it in the cornerstone.
MY NOTE: Actually Burnet and Llano Counties could furnish the granite to build a capitol building in every
state in the US and hardly make a dent!
By 1873 Bluffton was a prospering community. It had two blacksmith shops, a hotel, four saloons, and a number of stores. The first store was started by John Pankey, a Civil War veteran with one leg. The townspeople got together and helped him to get established.
Rich Arnold was also an early store keeper in Bluffton, and his brother Bill ran a blacksmith shop.
A man named White from Colorado built a saloon, a hotel and tenpin alley which he operated for several years.
Henry Chadwick, a pioneer Baptist preacher built the first saw and grist mill in the area, and later added a cotton gin.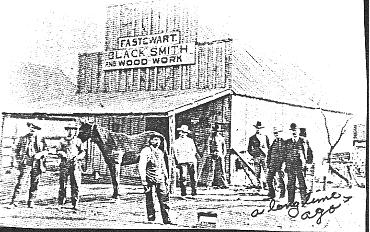 Blacksmith shop at Bluffton
A town can hardly have four saloons and not have a little trouble once in a while, and drunken cowboys shooting up the town was not uncommon. One such incident led to the burning of the town in 1883. Almost everything but the spirit of these pioneers was destroyed.
They moved the townsite one mile south and began rebuilding on the much traveled road connecting Austin and points east to the far removed western outposts.
The stagecoach from Austin traveled this road daily carrying passengers and mail. The hotel owned by Jack Mabry served as the stage reststop.
Ferrying across the river at Bluffton was a big business, and the first man to run it was Solomon "Hoss" Maxwell.
It was a thirty foot long flat boat pulled across hand over hand by three strong men, who found that if you angled it just right the river current helped. The charge was 25¢ for horseback, 50¢ for a single team, 75¢ for double, and more for oxen.
The ferry operated for twenty five years until a bridge was finally built across the river, and the years went by.
The people of Bluffton were proud of their town. They had seen it through floods, fire, indian raids and outlaws, but when plans to dam the Colorado became a reality, they were sitting right in it's way.
This was a "horse of a different color" as the oldtimers were prone to say, and there was nothing they could do now but move to higher ground.
The cemetary was the first to go, and that was the hardest of all. Each family was notified, and at least one family member had to be present when a grave was moved.
Then all the beautiful timber was cut and burned for miles around. It was a devastating thing to watch.
It had been seventy two years since Uncle Ike Maxwell rode the old Arkansas mule to the banks of the Colorado River and his garden of paradise. It was a God's blessing he didn't live to see it go.
---
Some of the early families of Bluffton and the surrounding area were:
Anders, Andrews, Arnold, Atkins, Ballard, Beal, Behrns, Blair, Box, Casner, Chadwick, Chestnut, Coggins, Cowan, Cox, Croft, Culberson, Davis, Dorbandt, Dunn, Garrett, Gooch, Graham, Green, Hallmark, Herridge, Holland, Johanson, Ligon, Mabry, Maxwell, Meador, McDonald, Pankey, Peterson, Prichard, Rivers, Robinson, Shaw, Smith, Steffey, Tate, Thomason, Townsend, Walters, White, Wiley,Wyatt.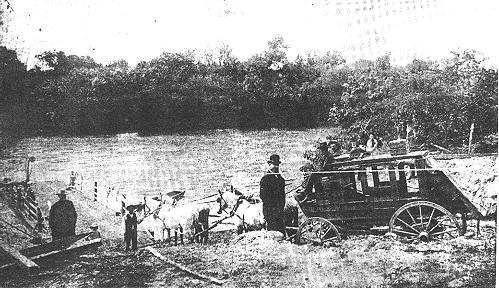 The stage at Bluffton waiting to go across the river on the ferry.
The big man standing in the left corner is Solomon Maxwell, man with
the bowler hat is Elder Black, Methodist presiding elder at Bluffton.
1890

---
Notes and Sources:
Photos and information on Bluffton taken from "Gem of the Hills", A History of Llano County by Willburn Oatman.
Buchanan lake, thirty two miles long and eight miles wide is the first and largest of the lakes in the Highland Lakes chain
that span from just east of Llano to Austin. All are popular for their fishing and boating activities year around.
Many people lost their land and homes to these lakes, but as far as I know Bluffton was the only town.
Travel The Bluebonnet Trail
---
Background by CRaB Computer Service