Texas Hill Country

When I chose this deer line graphic I thought it was maybe just a little misleading as it is mostly the deer that makes it look like home......Then again that is about the amount of snow we get.....hoof deep!
I grew up in Lampasas, a small town in the very heart of central Texas. And yes, we do occasionally get snow; maybe four or five inches every five years or so. Most usually the ground is too warm for it to lay and it doesn't last long.
I expect I remember every "big" snow I ever saw. I especially remember the first one, I was about five years old, which would make it around 1943.
My cousin and I were dying to get out in it, but our grandmother was afraid we would get pneumonia. Since we almost never had snow we were ill prepared to get out and wade around in it! Anyway, what I best remember is watching wistfully out the window as my mother stepped off the back porch in snow up to her knees, and filled a big dishpan full to make snow ice cream; which as it turned out was a ritual for her.
Mother loves snow so much she prays for it at least once a week all winter. She should have been born in the Panhandle.....but I am sidetracked...
My purpose here is to tell you about the area where my family settled when they came to Texas. Officially it is Central Texas, but we who live here call it the Texas Hill Country. Obviously for its beautiful rolling hills.
There are a few farms, but mostly it is ranching country. We do grow a lot of peaches, primarily in Gillispie County. The peaches grown in Stonewall, home of the LBJ ranch, are the best in the world, and get as big as a south Texas orange. Granny Shelton planted a tree from a seed of a Stonewall peach in her yard in Lampasas, and she guarded that tree like Windsor Castle.
We have a lot of the white tail deer like those in the graphic. I couldn't do it myself, but hunting leases during deer season is a big business in this area.
The summers are hot and more humid now than they used to be. Our winters are generally mild, but unpredictable. I have seen the temperture drop from the high 60's to freezing in less than an hour. If you have ever seen a "blue norther" then you know what I mean.
Spring is breathtaking. The bluebonnets begin to peak out toward the last of March and by mid April it looks like lakes of skyblue water everywhere.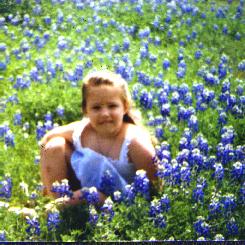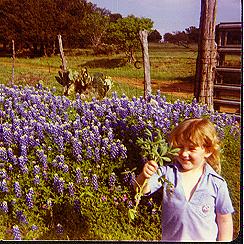 My Girls
Candice and Suanne
My family settled in Burnet and Llano County, also known as the Highland Lakes area of the Hill Country, and some of them branched out into the neighboring Lampasas County.
The Colorado River is the natural boundary of Burnet and Llano Counties. Lampasas County borders them to the north and touches the Colorado in one tiny spot on the map. It is near that spot that my ggrandfather, Jordan Wyatt,II purchased 142 acres on the Burnet County side of the river. My grandfather, Jordan Wyatt,III was born there in 1866, and except for the year he lived in Winters,Texas he never traveled more than a hundred miles from there his entire life.
Just down the river a few miles from the Wyatt farm was the frontier town of "old" Bluffton where my grandmother was raised, and where begins my story.

OTHER LINKS OF INTEREST:
Burnet County

Lampasas County

Llano County

Bluebonnet Trail

April Festivals
Hill Country Snapshots

Landmarks & Legacies

Yeeha! Texas

Texas Wildflowers
Texas Trails

Luckenbach Texas

Colorado River Trail

Hill Country Sun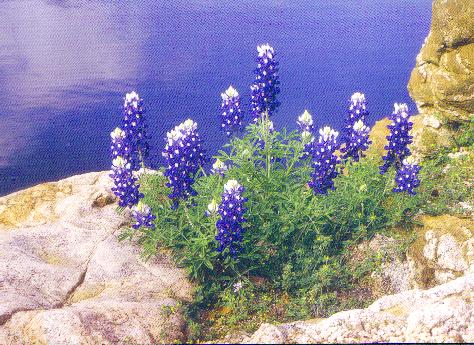 bluebonnets on the lake

---
music playing is
"Yesterday Once More"


God Bless America